The 2017 Ford Edge is a formidable midsize crossover, but Hyundai is in the market to woo crossover buyers over to their budget-friendly side. Let's see how the Ford Edge stacks up against the Hyundai Santa Fe.
2017 Ford Edge vs Hyundai Santa Fe
Styling: Ford Edge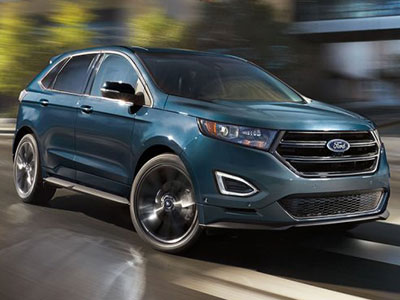 The Edge can look quite different based on the trim level and the color and wheel options you choose. At the entry level the Ford is a smart, contemporary crossover with clean, sharp lines that's likeable enough, but at the top end of the scale it can look really special. An Edge Sport model in the right color with those black 20-inch wheels is a vehicle anyone would be proud to have on their driveway.
The Santa Fe has enjoyed a mid-cycle refresh recently, but a couple of new bumpers haven't exactly transformed the Hyundai. While the Santa Fe can be a match for standard versions of the Edge,, it doesn't have an answer to the look of higher trims.
Engines and Performance: Ford Edge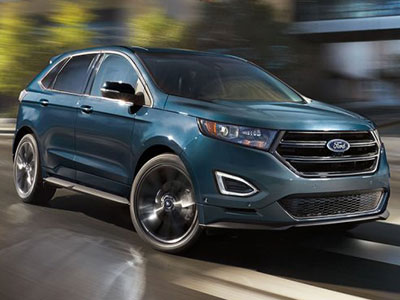 You can choose between three engines in the Ford Edge, and buyers won't be disappointed with any of them. Base models have a 245 horsepower 2.0-liter inline-four, then there's a 280 horsepower 3.5-liter non-turbo V-6, and finally a stupendous twin-turbo 2.7-liter EcoBoost V-6 that puts 315 horsepower at your disposal. Every model other than the Sport is front-wheel drive with all-wheel drive available, while the Sport is standard all-wheel drive.
Only offering a single engine in the Santa Fe doesn't bode well in a head-to-head with the Ford Edge and its three excellent options, even if the engine in question is a powerful V-6. The unit in the Hyundai is a 3.3-liter V-6 that's also found in the Azera sedan which, although it produces a healthy 290 horsepower, doesn't really stand up against the Ford.
Interior: Hyundai Santa Fe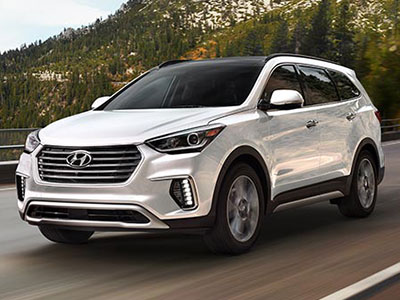 Depending on your point of view, not squeezing a third row of seats into the Ford Edge may or may not be a good thing. There's nothing wrong with the interior of the Edge, but it's perhaps not as plush and comfortable as we might be entitled to expect for the price. There's plenty of storage and five can ride quite comfortably, but buyers have to go to top trims to match rivals at similar prices.
The passenger volume in the Santa Fe of 146.6 cu.-ft., compared to the 113.9 cu.-ft. in the Ford, tells you a lot. The third-row seat might not be huge, but at least it's there, and when stowed away it opens up a useful amount of cargo space. Most models have good quality materials and trim, but, like the Ford, there's a big change in quality at the top end. This round has to go to the Hyundai for the extra space and seating capacity.
Features and Equipment: Ford Edge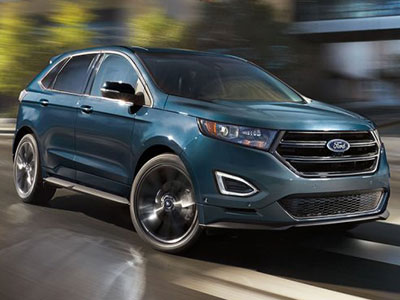 You'll find multiple trim levels with a wide range of features in the Edge. Base SE models include, as standard, power features, climate control, cruise control, a rearview camera, tilt/telescope steering, and AM/FM/CD audio system with Bluetooth audio streaming. Moving up a trim to the SEL then adds dual-zone climate control, power front seats, a satellite radio, rear parking sensors, a leather-wrapped steering wheel and heated mirrors. And from there things really do get extremely impressive.
Standard features in the Santa Fe include a rearview camera, automatic headlights, keyless entry, cruise control, steering wheel-mounted controls, Bluetooth phone connectivity and audio streaming, cloth seating, dual climate control, a 7.0-inch touchscreen display touchscreen for the audio and plenty more.
Learn More about the Ford Edge

The 2017 Ford Edge costs less than a Hyundai Santa Fe at the entry level, and that shows the Hyundai isn't as affordable as it once. The Santa Fe has the advantage of more seats, but the more desirable styling, better performance, and greater choice of engines makes the Ford our clear favorite of these two.