If you're considering a full-size truck, you've probably encountered the same basic model across the four major American manufacturers. Two of the most popular? The 2017 Ford F-250and the Chevrolet Silverado 2500. So which of these trucks will do the best job for you? Take a look at our head-to-head comparison.
2017 Ford F-250 vs Chevrolet Silverado 2500
Exterior Styling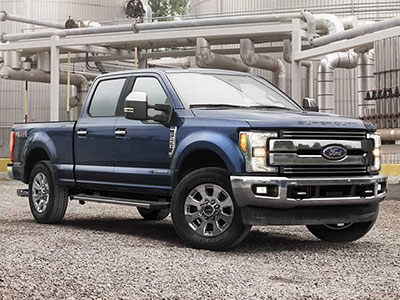 Some buyers might want to claim looks don't matter to them and it's really all about capability and reliability for them, but don't take that too seriously. Plenty of buyers pick models like these over the light-duty F-150 and Silverado 1500 because of the big, tough, macho image they have, and the all-new 2017 Ford F-250 certainly has plenty of that sort of presence. After its first redesign for 17 years, the F-250 is now very much the bigger, tougher, more capable brother of its all-conquering F-150 sibling.
The Silverado and the F-Series don't really have a huge amount of opportunity for radical design changes because, honestly, people expect trucks to look like trucks. The truck design philosophy is all about hard corners and lines, with curves almost entirely forbidden, and that's exactly what we get with the Silverado 2500. While you won't get revolutionary out of either of these trucks, the more modern fascia of the F-250 gives this round to the Ford.
Trims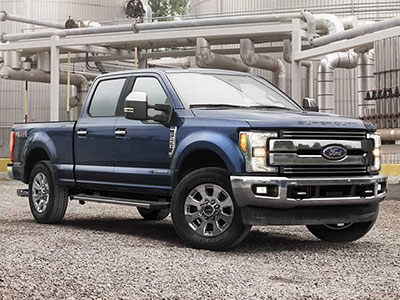 The Ford F-250 comes in XL, XLT, Lariat, King Ranch, and Platinum trim levels, so there's pretty much everything available from a hardcore, utilitarian workhorse to an luxury mobile office and everything in between. A number of heavy duty trucks tend to offer a little less choice than the Ford, so it's good that Ford is giving Super Duty buyers such diversity.
The Silverado 2500 is one of those Ford rivals that offers a bit less variety, with the range made up of the WT, LT, LTZ, and the High Country. At the top and bottom ends of the trim spectrums, the standard features and equipment are similar to the Ford. The Chevy choice to offer less diversity in between trims gives this round to the Ford.
Capability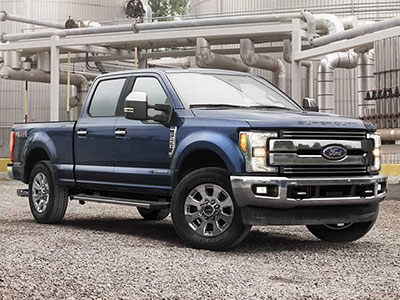 Style and features are obviously important to buyers, but nothing is more important to most truck buyers than the capability they offer. The 2017 F-250 boasts a maximum towing capacity of 18,600 pounds, a maximum payload of 4,200 pounds, a GVWR of 10,000 pounds and a GCWR of some 25,700 pounds.
The Silverado isn't short of capability in its own right either, with a maximum towing capacity of 18,100 pounds, a maximum payload rating of 3,534 pounds, a GVWR of 10,000 pounds and a GCWR of 25,300 pounds. Those are undeniably impressive numbers, but all of them fall short of the Ford.
Engines and Performance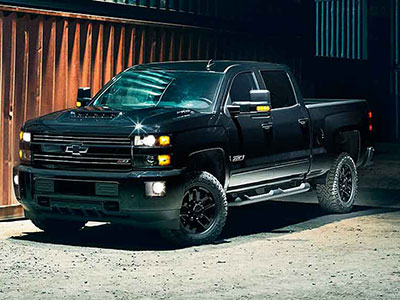 As is usually the way of things with heavy-duty trucks, the F-250 has two engine options, which are a 6.7-liter V-8 turbodiesel and a 6.2-liter gas V-8. The gas engine delivers 385 horsepower and 430 lb.-ft. of torque, while the turbo diesel produces an impressive 440 horsepower and a quite staggering 925 lb.-ft. of torque. The gas engine can also be bi-fuel capable if you wish, so it can then be run on CNG or propane autogas.
Unsurprisingly, the Chevy Silverado 2500 also has a gas V-8 and a V-8 turbo diesel to choose between. The gas engine is a 6.0-liter V-8 developing 360 horsepower and 380 lb.-ft. of torque, while the diesel is a 6.6-liter V-8 offering 445 horsepower and 910 lb.-ft. We will give this round to the heavy horsepowered Chevrolet.
Learn More about the Ford F-250

Even though the Chevy is an older truck than the all-new, completely redesigned 2017 Ford F-250, it still puts up a tough fight. If we're being totally honest, a sizeable book could conceivably be written about the almost infinite different configurations, features and capabilities of these two pickup trucks, but the final chapter will always have the 2017 Ford F-250 emerging triumphant