When a regular pickup just won't cut it, heavy-duty trucks like the 2017 Ford F-250 and the Ram 2500 provide the muscle you need for serious towing and hauling jobs. Which is the right model for you? Read our comparison guide to learn more about how these rugged trucks stack up.
2017 Ford F-250 vs Ram 2500
Power & Performance: 2017 Ford F-250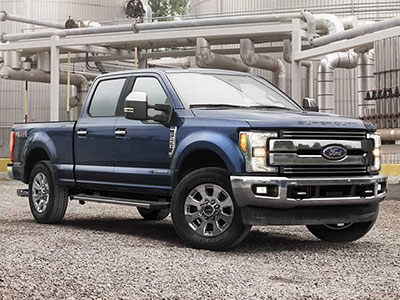 For maximum capability, choose the 2017 Ford F-250. This truck is at its most powerful with the 6.7-liter turbodiesel V8 engine, which kicks out 440 horsepower and 925 pound-feet of torque. Properly equipped, this heavy-duty model is rated to tow up to 18,000 pounds. Configured for fifth-wheel or gooseneck trailers, that number increases to 18,600 pounds. This heavy-duty pickup is also a great choice for hauling heavy loads of construction supplies - the two-wheel-drive, regular-cab F-250 can haul max payloads of 4,200 pounds.
The Ram 2500 is also fully prepared to move gargantuan loads, especially when equipped with its optional diesel six-cylinder. With the reinforced six-speed automatic transmission, this powertrain pumps out 370 horses and 800 pound-feet of torque. Add the built-in fifth-wheel and gooseneck hinge sockets for maximum towing capabilities of 17,890 pounds. Depending on configuration, the Ram 2500 can haul up to 3,990 pounds.
Convenience & Utility: 2017 Ford F-250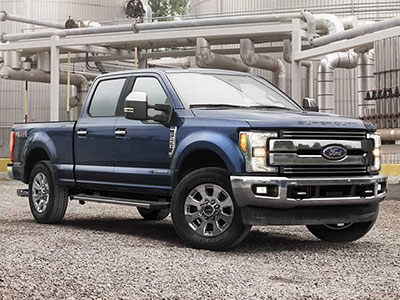 The 2017 Ford F-250 offers a range of high-tech features designed to help you navigate your workday. For example, trailer-related technology includes blind-spot monitoring to cover the length of a trailer, and a pair of rearview cameras help you line up your F-250 with a trailer for easy hookup. When you need to maneuver through a tight space, the 360-degree camera system offers a bird's eye view of your truck, helping you avoid even a scratch.
The Ram 2500 does offer the usual rearview camera, enhancing your view of the ground behind you and thereby helping you avoid hitting any stray objects as you back up. You can also add a cargo-view camera, which gives you the power to keep track of your cargo supplies as you head down the highway. It doesn't, however, match the F-250 in terms of trailer-friendly tech. While it does offer an integrated trailer brake controller, it doesn't include anything like the F-250's trailer tire-pressure monitoring system or the aforementioned cameras.
Creature Comforts: 2017 Ram 2500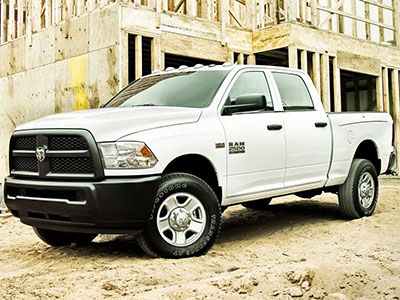 The Ram 2500 is renowned for its refined cabin and best-in-class ride comfort. Heavy-duty trucks can feel a little skittish when they're not towing or hauling heavy loads. But, with the Ram's class-exclusive coil spring rear suspension, you'll enjoy the ride, even on winding roads and off-road terrain. Inside, the Ram is always smooth and quiet. More than that, though, the Ram's nicely shaped seats offer endless comfort. The crew cabin is an especially great pick for anyone who plans to take a gang along for the ride - there's ample head and leg room in both rows.
No matter which cabin option you select - regular, extended, or crew - you'll find ample passenger space in Ford's Super Duty truck. It may not ride as smoothly as the Ram, but this newly redesigned model improves on predecessors with a finer-tuned suspension for solid steering feel and confident handling. You'll also find plenty of comfort inside, with everything from ventilated seats to leather upholstery to up the luxury quotient.
Safety: 2017 Ford F-250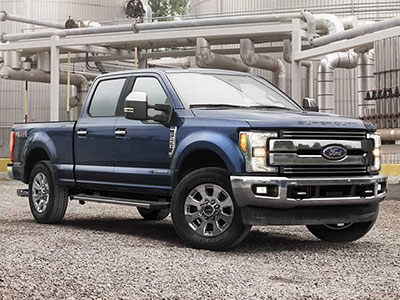 When it comes to passenger protection, the 2017 Ford F-250 leads the heavy-duty segment. It delivers a bevy of high-tech safety features to help you avoid danger. These include advanced driver aids, like lane departure intervention and collision warning with brake support, both of which spring into action when they sense danger. All of these trucks include a post-crash alert system, bringing help even if you're unable to respond.
In the safety department, the Ram 2500 isn't quite as high-tech. However, it does hit you with all the basics - including anti-lock brakes and traction and stability control. Should bad weather strike, you can be sure that you're maintaining optimal authority over performance.
Learn More about the Ford F-250

Both heavy-duty trucks are designed to tackle more than the average, but the 2017 Ford F-250 is our overall pick, with its superior towing and hauling capabilities and street-smart technology. In one of these heavy-duty trucks, there's not much you can't handle, whether you're looking to haul a gooseneck camper across country or safely switch lanes with a long trailer attached.