As far as full-size pickup trucks are concerned, American truck makers are in the business of competing--and they do it well by making trucks that are so similar that it's tough to see the differences between them. For Ford and Chevrolet, that means the F-Series and the Silverado go toe to toe in full-size trucks. But what about when the trucks get a little bit bigger? Let's see how the 2017 Ford F-350 and the Chevrolet Silverado 3500 measure up to each other.
2017 Ford F-350 vs Chevrolet Silverado 3500
Exterior Styling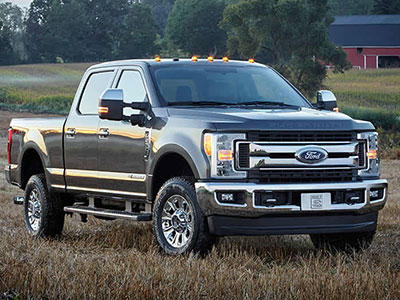 Many buyers want a tough look to their truck, even if they don't necessarily use or need the tough capability. So style matters, even to the toughest truck buyers. The all-new 2017 Ford F-350 certainly has that image and then some. After what is now its first redesign for some 17 years, the F-350 is now looks the part of a bigger, tougher, sibling of the ever-popular F-150. It's also a huge step up in power and capability from its F-250 brother.
Just like truck buyers want tough style, truck manufacturers want truck buyers--so they don't move too far from the proven style formula. That means a truck is supposed to look like a truck, squared off and rugged. That boxy, rugged, tough look is exactly what you get with the Silverado 3500. The Silverado feels a bit older in its style, so the nod here goes to the F-350.
Trims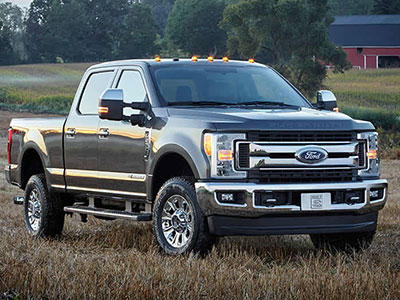 The current, all-new Ford F-350 is available in XL, XLT, Lariat, King Ranch, and Platinum trim levels. This choice gives buyers the option of outfitting their truck as a stripped down work model or a luxury mobile showpiece--and everything inbetween. While heavy duty trucks rarely offer as many features as the light duty trucks do, the F-350 offers plenty of options to choose from.
The Silverado 3500's lineup of trims gives buyers a bit less variation, with a range between the WT, LT, LTZ, and the High Country. The top and entry levels are very close to what the F-350 offers, but the overall lack of diversity hands another win to the Ford.
Capability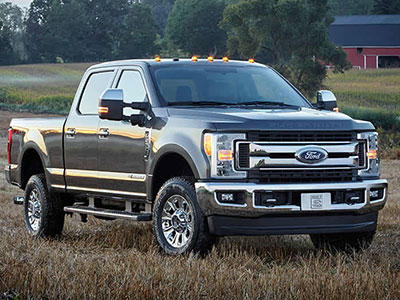 Styling, features, and the like are obviously important to buyers, but trucks are really all about capability--especially heavy-duty models like these. The 2017 F-350 boasts a maximum towing capacity of 32,000 pounds, a maximum payload of 7,630 pounds, a GVWR of 14,000 pounds and a GCWR of some 40,000 pounds.
The Silverado 3500 is obviously quite capable as well or it wouldn't be as popular as it is. Its maximum towing capacity is 23,300 pounds, the payload rating is 7,153 pounds, the GVWR is 21,100 pounds and there's a GCWR of 31,100 pounds. Those are undeniably impressive numbers, but most fall short of the Ford.
Engines and Performance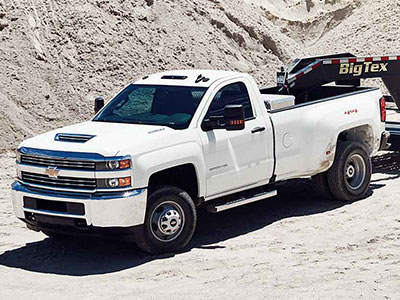 Like the F-250, the F-350 has two engine options: a 6.7-liter V-8 turbodiesel and a 6.2-liter gas V-8. The gas engine unit produces 385 horsepower and 430 lb.-ft. of torque, while the diesel gets you 440 horsepower and a pretty awesome 925 lb.-ft. of torque. Bi-fuel capability is available with the standard gas V-8 so it can then run on CNG or propane autogas, making it appealing to fleet and commercial drivers and those who are interested in keeping their carbon footprint smaller.
Unsurprisingly, the Chevy Silverado 3500 also boasts a gas V-8 and a V-8 turbo diesel to choose between. The gas engine is a 6.0-liter V-8 putting 360 horsepower and 380 lb.-ft. of torque at your disposal, while the turbodiesel is a 6.6-liter unit producing 445 horsepower and 910 lb.-ft. With more horsepower, the Silverado 3500 gets the nod here.
Learn More about the Ford F-350

Heavy-duty trucks like these come in a huge variety of different configurations and specifications, but as a whole the 2017 Ford F-350 outperforms the Chevrolet Silverado 3500. Both of those trucks offer rugged capability and impressive style, but the Ford is the better buy.