When you're serious about what your pickup truck should be able to do, a heavy duty model like the 2017 Ford F-350 or the Ram 3500 is your best bet. You have a number of contenders vying for your business in the heavy duty market--let's compare these two options.
2017 Ford F-350 vs Ram 3500
Styling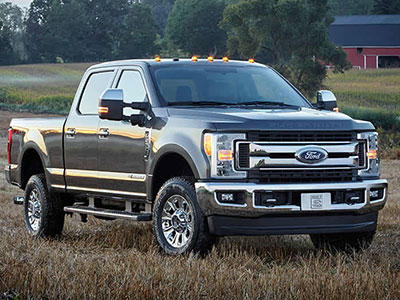 The 2017 Ford F-350 model is all new this year--for the first time in around 17 years. The new look isn't a radical departure from the previous model, but it's been modernized enough to make it easily identifiable as redesigned. The F-350 may not be as flashy as it was, but it still looks tough, purposeful, and just how you'd want a heavy duty truck to look.
Although higher trim levels of the Ram 3500 can get a bit flashy with an overload of chrome, the majority of models look blue collar and workmanlike. That's not to say they're unattractive, because that's not the case, but the Ram 3500 now looks a little dated, especially at the side of the new and now more desirable 2017 Ford F-350.
Powertrains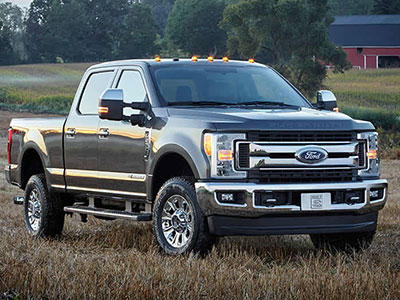 Ford keeps it nice and simple with heavy duty models like the F-350 as far as engines are concerned, so you only have to choose between a powerful gas V-8 and an even more powerful turbodiesel V-8. The standard gas unit develops 385 horsepower and 430 lb.-ft. of torque, while the turbodiesel gets you as much as 440 horsepower and a massive 925 lb.-ft., both of which come mated to a six-speed automatic transmission.
Ram offers two gas engines and a diesel for the 3500. The base engine is a 383 horsepower 5.7-liter Hemi V-8, the second gas engine is a 6.4-liter Hemi V-8 putting out 410 horsepower. The diesel option is a 6.7-liter Cummings V-6, which is available in a number of power variants, the most powerful of which being 385 horsepower and 900 lb.-ft. Ford has more power, which gives you the edge.
Capability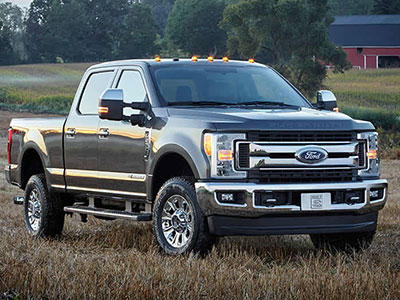 If you need more capability than the F-350 offers, you must be involved in some very, very serious heavy duty applications. We say that because the F-350 is a beast with a best-in-class maximum payload capacity of 7,630 pound. In fact, when properly specified, the Ford F-350 can tow up to as much as 32,000 pounds.
The Ram 3500 is certainly no slouch in this all-important area either, with a maximum payload rating of 7,390 pounds and a maximum trailer rating of 31,210 pounds. That's mighty impressive, but once again the F-350 is the winner.
Specifications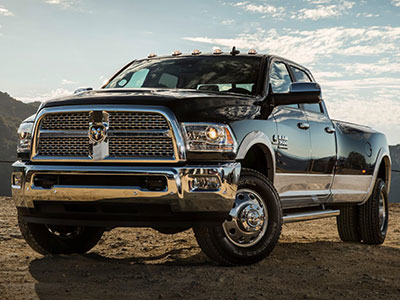 You can choose between five different trim levels of the Ford F-350: XL, XLT, Lariat, King Ranch and the top-of-the-range Platinum. Then Regular, SuperCab and Crew Cabs are your seating options, as well as two bed lengths of 6.75 and 8.0 feet. In base XL form the Super Duty is reasonably basic, but go up the trims or raid the options list and you'll find some very advanced features available.
Despite being an older model, you can option up a Ram 3500 to a similar level and to a similar price as the Ford. You'll have an extra trim level to choose from, though, with standard equipment including all the requisite cameras, including a cargo camera for hitching a gooseneck trailer and rearview camera to make conventional trailering hookups easier. They're very similar trims, with a multitude of customization options, but the extra trim might give buyers more of what they want. We'll give this nod to the Ram 3500.
Learn More about the Ford F-350

The Ram 3500 is a capable heavy duty pickup truck that likely gives commercial buyers what they're looking for in a work truck. But as we know, even heavy duty pickups are extremely popular with retail buyers, so the combination of more capability along with design and engineering that's right up-to-date makes the 2017 Ford F-350 the much better choice.