2018 Ford Edge vs Chevrolet Equinox
Technically, the 2018 Ford Edge and the Chevy Equinox aren't in the same class. The Ford Edge is slated as a midsize sport utility vehicle while the Equinox is a compact SUV. But considering that the Edge is only five inches longer and three inches wider and the difference isn't that different. So which five-seater SUV is the better buy?
Acceleration: 2018 Ford Edge
The Ford Edge is one of the vehicles putting sport back in the term sport utility vehicle. The base 2.0-liter 4-cylinder turbocharged engine is both thrifty on fuel and generous on pep. The Ford Edge generates 245 horsepower and delivers enough acceleration that few would complain. One step up from that engine option is the 280-hp 3.5-liter V-6 engine on the SEL and Titanium trims. The V-6 goes zero to 60 in 7.6 seconds and can do a quarter-mile in 15.9 seconds. But the real speedster is the Edge Sport's 315-hp twin-turbocharged 2.7-liter V-6. This fire-spitter goes zero to 60 in just 5.6 seconds and a quarter mile in 14.2 seconds. That means it can run circles around most SUVs and quite a few compact sedans too.
By comparison, the 2018 Chevy Equinox has a tired 170-horsepower turbo four-cylinder base engine. Get your lead foot ready because the Equinox needs some coaxing onto the interstate. The Chevy Equinox's four-cylinder goes zero to 60 in 8.9 seconds and a quarter mile in 16.9, making it one of the most sluggish engines in its class. You would do well to upgrade to a different engine, but since the Equinox is completely redesigned this year, you may have to wait for forthcoming engine options.
Safety: 2018 Ford Edge
If you've got a need for speed, you probably want plenty of active safety features to keep you secure. The 2018 Ford Edge has you covered. Not only did the Edge earn five stars from its national crash testing, but it's active safety features outdo the offerings on the Equinox. Standard features include rearview camera and Ford's MyKey, which helps keep teen drivers safe and their parents aware of their child's driving habits. The rest can be added as options on the Ford Edge, namely inflatable rear safety belts, adaptive cruise control, forward collision warning with brake support, blind spot monitoring, rear cross traffic alert, front and rear parking sensors, active park assist, 180-degree camera system, and rain-sensing wipers.
The 2018 Chevy Equinox earned only four out of five stars in national safety tests, and has a comparable number of safety features to the Edge, but those options are locked away in the upper trims. The only standard safety feature is a rearview camera. To get features such as rear parking sensors, rear cross traffic alert, and blind spot monitoring, you have to get upper-tier trims and costly packages. Most Equinox drivers, therefore, won't have these life-saving devices.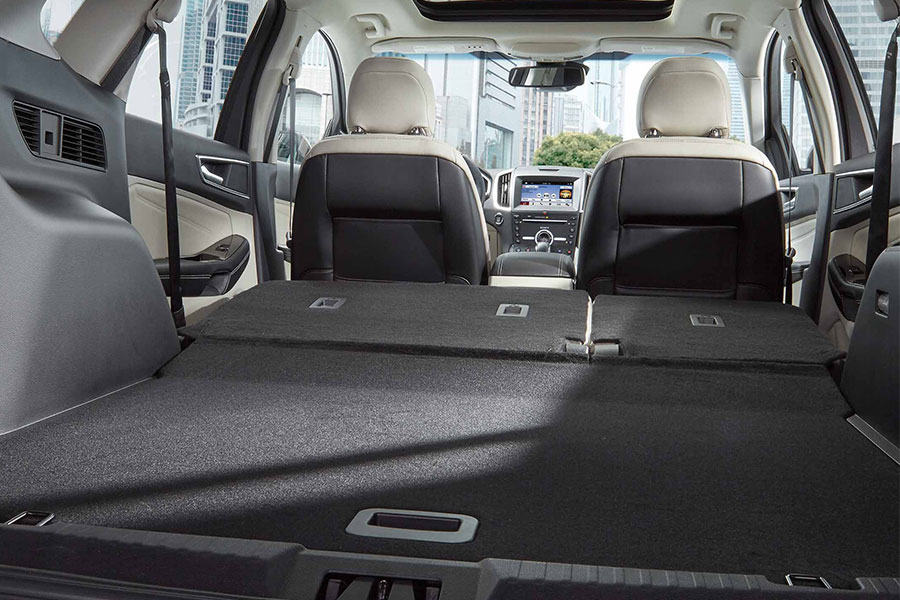 Cargo Space: 2018 Ford Edge
This might seem an unfair comparison. After all, the Ford Edge is bigger. But one of the distinct advantages of buying a midsize versus a compact is the space for seating and cargo. In this case, the Ford Edge has a whopping 10 cubic feet more than the Chevy Equinox: that's 39 to 29 cubes respectively. Cargo space is one of the first things to go when you shrink the dimensions of a car. Getting that space is one of the major advantages of buying bigger.
These two SUVs aren't that different in size. And, yet, the Edge is bigger on speed, bigger on safety, and a lot bigger on storage than you'd assume. That's a clear indication that it's also the bigger, better buy.