2018 Ford Edge vs Jeep Grand Cherokee
The Jeep Grand Cherokees has sporty off-roading chops. And if those who go traipsing into the wild a couple times a year should get one. But if you're one of the 98% of other people who don't go off-roading all the time, consider the Ford Edge. We'll break it down here as to why the Edge might just be a better SUV in just about every other way.
Fuel Economy: 2018 Ford Edge
If you're going to be a dedicated off-roader, you're going to need a powerful engine. But powerful engines don't so much drink fuel as chug it. If you want the 2018 Jeep Grand Cherokee's V8 engine-any off-roader's dream-you're going to pay for it at the pump. The Grand Cherokee can get as little as 11 city miles and 17 highway miles per gallon. If you want the more modest V6 engine, it's 19 city and 26 highway miles per gallon. That's better but if you're not going full off-roader, you bought the Grand Cherokee mostly for its looks.
The base 2018 Ford Edge engine fares better than even the best fuel-sipper on the Grand Cherokee line. The base engine is a turbocharged 2.0-liter that gets 20 city and 29 highway miles per gallon. If you want sportier, you can get sportier, up to a twin-turbo 2.7-liter V6 engine. Even then, you're doing pretty well on gas mileage, getting 17 city and 23 highway miles. That's better than the sportier engine option on the Grand Cherokee.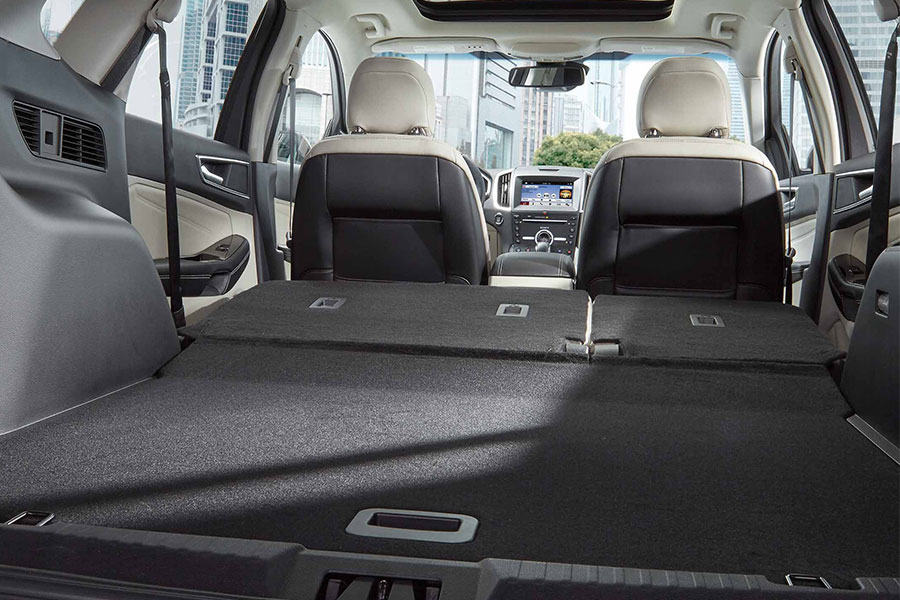 Cargo Space: 2018 Ford Edge
Sport utility vehicles may appeal to you because of their size. But size doesn't always translate into interior cargo space. The 2018 Jeep Grand Cherokee has 36.3 cubic feet of cargo space, which can expand to 68.3 cubic feet with the seats folded down. That's less storage than almost every other midsize SUV.
The Ford Edge is a bit smaller and has the same number of seats, but it gives you more cargo space. Behind the back seat it comes to 39.2 cubic feet. That's handy, especially with the hands-free liftgate. Fold the back row down and it's 73.4 cubes.
Performance and Handling: Tie
The 2018 Jeep Grand Cherokee has a bevy of five engine options to choose from, everything from the base V6 engine to an insane 707-horsepower supercharged V8. The only ding to its performance is in its handling. The Jeep Grand Cherokee is a hefty vehicle and you can feel it on corners, with not insignificant body roll. In other words, expect to lean through corners.
The 2018 Ford Edge has just three engine options, but they should satisfy most customers. Besides the base engine, there's a better V6 engine on the upper trims, and a best twin-turbo 2.7-liter V6 engine on the Edge Sport trim. You'll love all the power on offer and the sedan-like feel. Even if it's not the most powerful SUV, with some of the best handling in the midsize class, the Edge is a breeze to drive.
With better handling, fuel economy, and cargo space, unless you're a dedicated off-roader, we'd recommend the Edge over the Grand Cherokee.