2018 Ford Escape vs Kia Sportage
You've got errands to run, kids to drop off and pick up, people to visit, and road trips to endure. You're a busy person. And you need a car that relieves the pressure. You put a lot of time and money into your car; so it should give a lot back. The compact sport utility vehicle class is perfect for busy adults who spend their time 'adulting.' In this comparison guide, we'll see which SUV matches your busy life the best, the 2018 Ford Escape or the Kia Sportage.
Tech: Tie
A recent study found that the average American spends 101 minutes per day driving. Our cars really are like second homes to us. That's why technology is becoming such an integral draw for buyers today. Without hands-free and intuitive tech, we're just sitting in traffic reading bumper stickers. The 2018 Ford Escape has the tech we crave, including standard voice-activated SYNC infotainment system, Bluetooth, USB port, and six-speaker stereo. The options expand from there, like 110-volt power outlet, push-button start, 10-speaker Sony stereo, satellite radio, navigation, and the intuitive SYNC 3 touch-screen infotainment system with Apple CarPlay and Android Auto.
The Kia Sportage has plenty of tech as well. Standard features include 5-inch touch-screen infotainment system with six speakers, satellite radio, Bluetooth, and USB port while optional features include push-button start, remote keyless entry, 7- or 8-inch touch screen, Android Auto and Apple CarPlay, fast-charging USB port, navigation, HD Radio, and Harman Kardon audio system. Kia's UVO infotainment system is equally fast and intuitive. These tech lineups are both great and too close to call. It's a tie here but let's see how other features compare.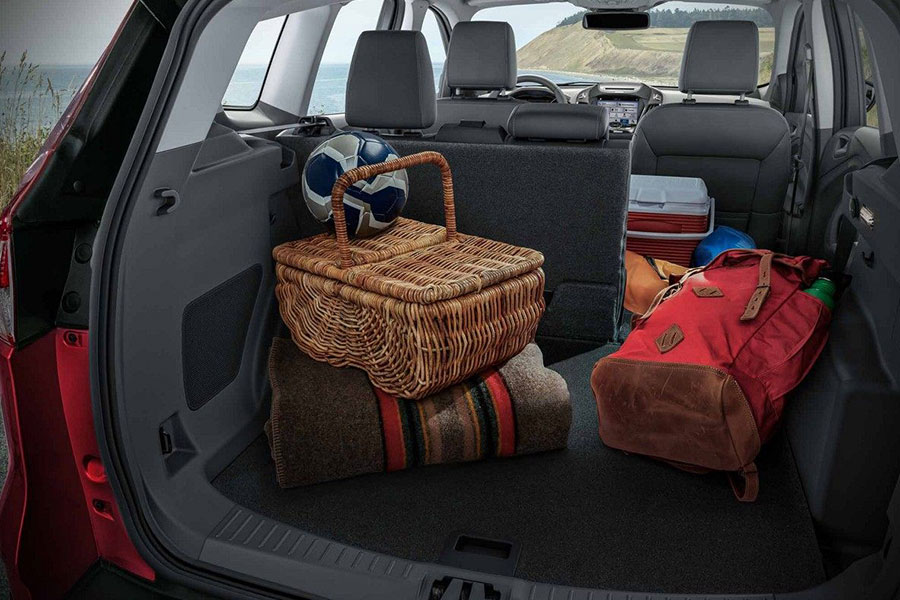 Cargo Space: 2018 Ford Escape
The engineers at Ford have outdone themselves. The Escape and Sportage are about the same length and have comparable head and leg room in both front and back rows. But any way you slice it, the 2018 Ford Escapes somehow gives you more cargo space. With the back seat down, there's 67.8 cubic feet available. Put the back seat up and you still have 34.3 cubes. Compare that to the Kia Sportage and you'll see the Escape advantage. The Sportage has just 60.1 cubic feet of storage space with the second row down or 30.7 cubes with it up.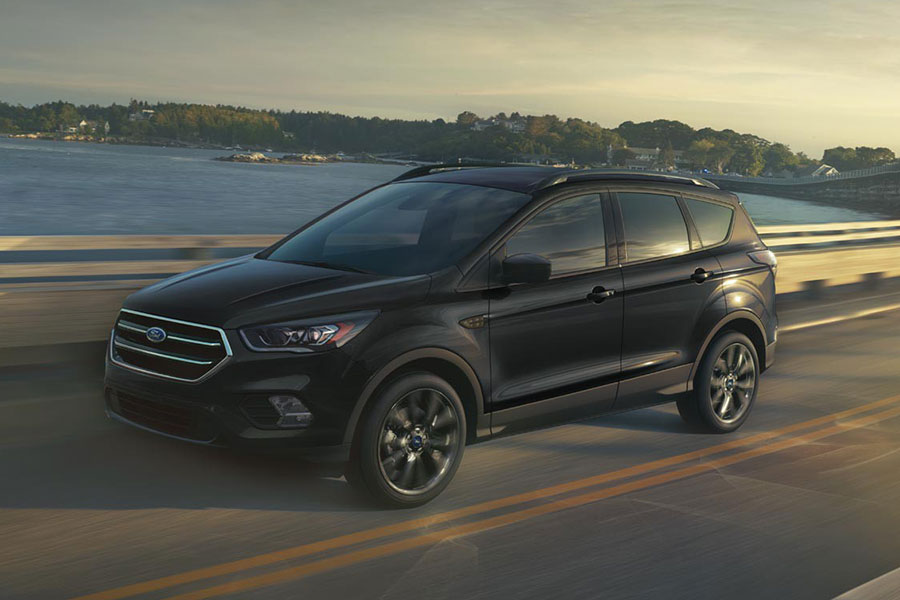 Safety: 2018 Ford Escape
You need to know you and yours will be safe. That's the bottom line. Safety is measured in two ways: active safety features and crash tests. Both the Escape and Sportage earned top marks in national crash tests: 5 out of 5 stars. So let's look at safety tech. The Ford Escape offers automatic parking assist, front and rear parking sensors, blind spot monitoring, rear cross traffic alert, lane keep assist, driver drowsiness monitoring, automatic high beams, adaptive cruise control, and assisted pre-collision braking. If that seems like a lot of safety tech, it is. The Kia Sportage almost has as many active safety features, but going down the list, you'll find the Escape has a few that the Sportage leaves out.
If you want the safest, roomiest, and techiest SUV, we recommend the 2018 Ford Escape. This compact SUV will meet you in the middle, making your life perhaps a bit less hectic.