2018 Ford Fusion vs Honda Accord
All other things being equal, does a lower price earn the sale? We think so. In this comparison guide, we'll show you exactly what we mean. Here we compare the 2018 Ford Fusion and Honda Accord. They have a lot of great features both cars share, but one is over a thousand dollars less expensive.
Pricing: 2018 Ford Fusion
The 2018 Ford Fusion starts at the low price of $22,120. The Fusion S comes standard with manually adjustable front seats, push-button start, Ford MyKey, rearview camera, four-speaker stereo system, and voice-activated SYNC interface. The optional features include fog lamps, leather-wrapped steering wheel, and spoiler.
At the other end, the Fusion Platinum costs $36,990, and is decked out in luxurious features like premium leather seats, heated and ventilated front seats, moonroof, voice-activated navigation, rain-sensing windshield wipers, blind spot monitoring, rear cross traffic alert, lane keep assist, automatic parking assist, adaptive cruise control, automatic high beams, and pre-collision system with forward collision warning, pedestrian detection, and automatic emergency braking.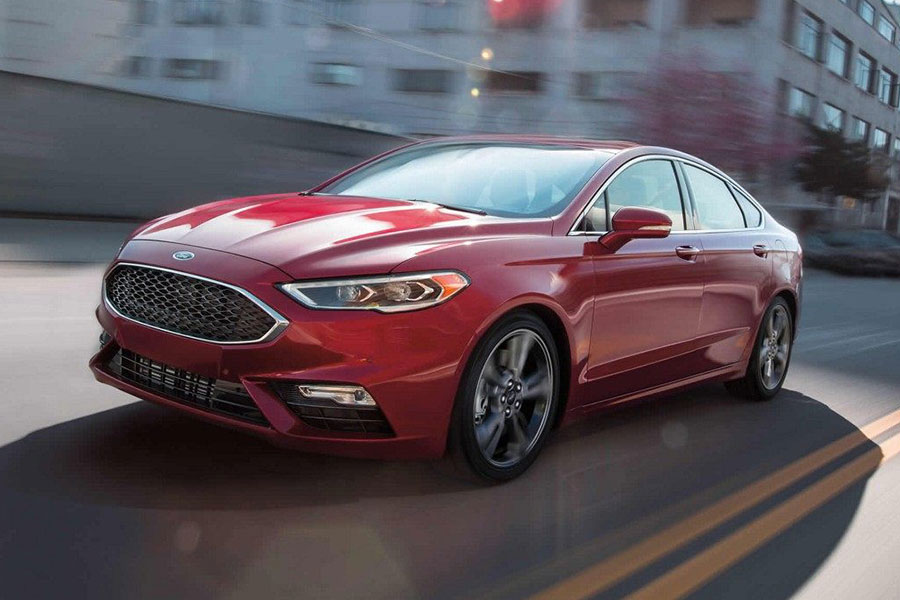 You can't blame Honda for raising their prices. After all, the Accord is newly redesigned for the 2018 model year. Now the base Accord LX starts at $23,570. But the LX is relatively spartan in its offerings, which include dual-zone automatic climate control, driver drowsiness monitoring, and Honda Sensing. You can add features like front and rear parking sensors and wireless phone charging by paying extra.
There are four more trim levels, the ceiling being the top-tier Touring trim, which includes head-up display, ventilated front seats, heated rear seats, 4G LTE with Wi-Fi hot spot, wireless device charging, and front and rear parking sensors. The Touring starts at $33,800, making the Accord less expensive at the upper end but the Fusion more affordable at the lower end.
Cargo Space: Tie
One of the trade-offs in choosing a four-door sedan as opposed to a small SUV is the interior space. So we jealously guard our trunk space. While the 2018 Ford Fusion technically has slightly less cargo room than the Honda Accord-16 cubic feet versus 16.7 cubes-we're still calling this one a tie. The Fusion has a wider trunk opening, lower lip, and 60/40 split-folding rear seats. Meanwhile, the Accord offers none of these. Its bottleneck opening can be frustrating, meaning, though the Accord has more room, the Fusion is more accessible.
Interior Feature: Tie
The 2018 Ford Fusion comes with the voice-activated SYNC system, or upgrade to the SYNC 3 infotainment system. We recommend the SYNC 3, with its 8-inch display, intuitive menus, fast response time, and Apple CarPlay and Android Auto. The 2018 Accord is similarly equipped, though this Honda replaces the Fusion's standard CD player with optional Wi-Fi hotspot. But, again, this one is a tie.
Ride and Handling: Tie
Here's yet another category that's too close to call. The 2018 Ford Fusion delivers a smooth ride and quality handling, while its pothole mitigation system detects jarring dips in the road and helps you roll over them smoothly. The Accord has a similarly quiet ride and capable handling. If you want sport-tuned suspension, Ford offers the Fusion Sport while the Accord has its own Sport model.
Now that you've seen how evenly matched these midsize cars are, you probably see what I mean. All other things being equal, a lower price tag makes the 2018 Ford Fusion the much more attractive option.