2018 Ford Transit Connect
The 2018 Ford Transit Connect takes your company into the modern era, with its thrifty powertrain, robust hauling capabilities, and striking maneuverability.
Who needs the 2018 Ford Transit Connect?
What are the Ford Transit Connect configurations?
When you shop for a Transit Connect, you certainly don't lack for options. There are two distinct body styles: the Cargo Van and Wagon. The Cargo Van is designed for people hauling. With the standard wheelbase, the Transit Connect transports up to five passengers. Choose the long-wheelbase model, and you get seating for seven. The Cargo Van offers three trims: the entry-level XL, mid-grade XLT, and classy Titanium. The XL Wagon can double as an extremely affordable family hauler, thanks to its roomy seating, air conditioning with rear climate controls, and power second-row windows. In the XLT Wagon, your clients will feel at home, thanks to the quieter ride and rear privacy glass. Choose the Titanium to give your favorite customers the luxury experience, with upscale features like dual-zone automatic climate control and leather upholstery.
But maybe your business is more the Cargo Van type. In that case, you'll find the same wheelbase options in the Transit Connect - standard or long - and two trim models, the XL and the XLT. The entry-level Cargo Van XL gives you the best deal on modern utility, supplying all the basics - air conditioning, an overhead storage shelf, and built-in cargo tie-down hooks - to help you tackle your to-do list. If you prefer a more comfortable cargo-hauling experience, check out the Cargo Van XLT. This Transit Connect upgrades the standard vinyl seats and floor mats with cloth upholstery and carpeted floor coverings. This commercial van is also a bit savvier, thanks to its multi-function driver display and cruise control.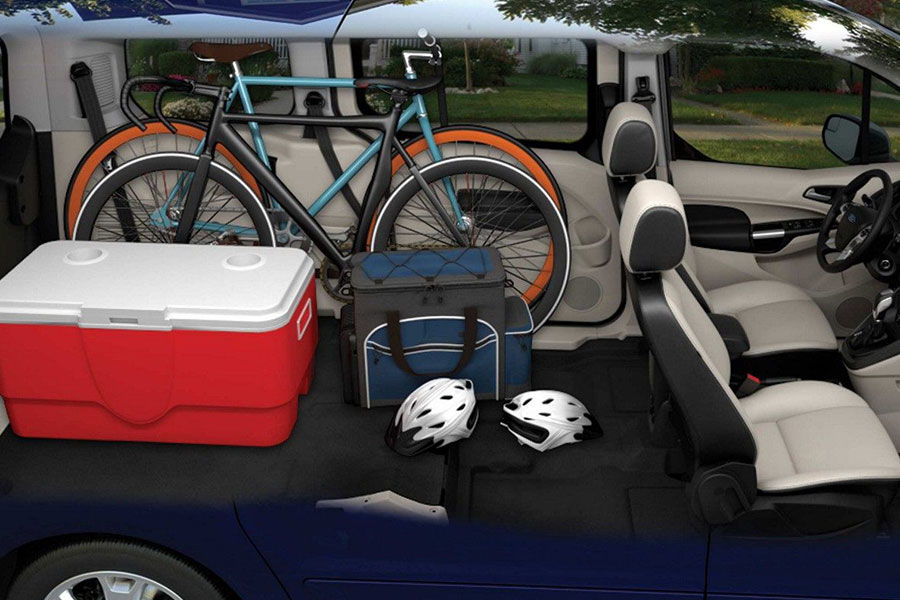 How big is the 2018 Ford Transit Connect?
With two wheelbases and body styles available - Cargo Van and Wagon - you can tailor the Transit Connect's interior space to suit your company requirements. In the short-wheelbase cargo van, you'll find 103.9 cubic feet for delivery boxes and supplies. Should you require extra hauling space, the long-wheelbase cargo van gives you what you need, with up to 128.6 cubes of maximum cargo space.
If your company carts passengers, you'll be happy to know that the short-wheelbase Transit Connect Wagon has plenty of room for their stuff, with up to 77.1 cubic feet of maximum cargo space. Upgrade to the long-wheelbase Wagon for 104.2 cubes of max cargo space.
Can the 2018 Ford Transit Connect tow?
Yes! Properly equipped, this commercial van can tow max loads of 2,000 pounds. The Transit Connect can lug a trailer full of items that don't fit inside the cabin, such as business supplies or cargo. Add the towing package for maximum performance.