2019 Ford F-250
The Ford F-250 got a major overhaul in 2017, and the 2019 model hasn't changed much. Those changes include a new Sport package for the Lariat trim level and the B&O brand replaces Sony stereo for the audio system. Besides that, we're just looking at great truck continuing to do what the F-250 does so well. Here we'll let you know what you get with this veteran truck and why the F-series is still the smartest buy for your money.
Amazing Aluminum Alloy
When Ford swapped out some of its metal parts for a military-grade aluminum alloy, the F-250 shed some weight. Depending on configuration the aluminum diet dropped between 400 and 700 pounds. What does that do for you? With a lighter frame and the same great engines, the Ford F-250s has less of itself to haul, meaning this Ford can haul and tow more. With the High Capacity Trailer Tow package, the F-250 can tow up to 15,000 pounds and haul up to 4,400 pounds. That's more than the aluminum-free second-generation of F-250s.
Another great benefit of alloy cabin and bed is how dent-resistant and rust-proof they are. Your F-250 truck will keep its looks and last longer. And if you're worried about strength, the load-bearing frame keeps its high-strength steel and tens of thousands of truck drivers have tested them and proven that these Ford trucks are doing just fine with aluminum.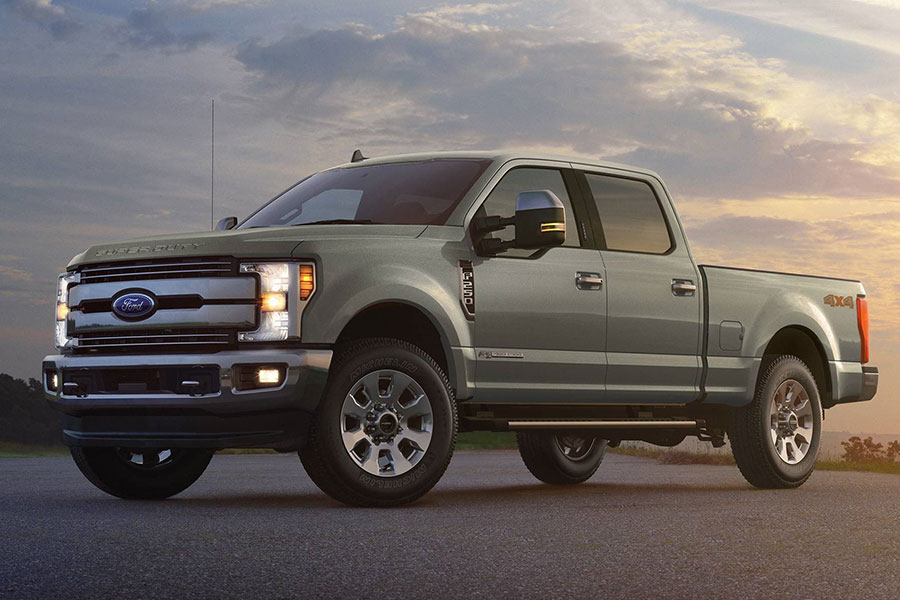 Engines and Driving
The standard engine on the F-250 line is Ford's 6.2-liter gasoline V8, delivering 385 horsepower and 430 pound-feet of torque. But if you want to be truly impressed, opt for the 6.7-liter Power-Stroke diesel V8, which generates 450 horsepower and 935 pound-feet of torque. Press the gas and feel the diesel engine pause for a moment, then deliver acceleration in spades.
Steering and braking feel a little wooden until you load up the Ford F-250. This truck was made for hauling and that's when the F-250 runs best. The F-250 is also a capable off-roader, with its lockable rear diff and shift-on-the-fly four-wheel drive. If you're a regular off-roader, be sure to spring for the optional FX4 off-road package.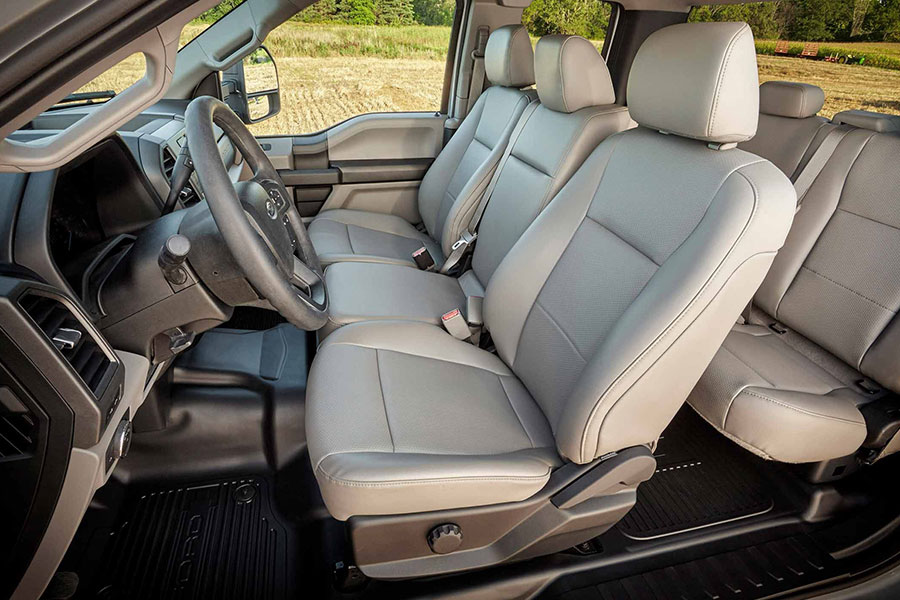 Cabs for the Whole Crew
No one needs to be cramped in your truck. Ford offers spacious cabins in a variety of configurations. Take your pick of regular, Super, or Crew Cab, along with a variety of bed lengths. While you're looking around, take some time to appreciate how roomy the cabin is. Backseat space is generous, with plenty of leg room. There's also abundant head room throughout the cabin thanks to a flat roof.
The cabins are surprisingly quiet and comfortable, especially in the upper trims where plus leather seating welcome you. I mean, you can definitely hear the hum of the PowerStroke diesel engine, but the engine's roar sounds like a purr in the cabin. Inside, you'll also enjoy the SYNC 3 infotainment system, one of the best out there, with easy-to-reach-and-understand controls.
Sure, the 2019 Ford F-250 can haul and tow a hefty load. But this Super Duty truck has also got the creature comforts that'll make you never want to leave.