2019 Ford F-550
At some point, for some jobs, you need to throw absolutely everything you have at it. That's what the 2019 Ford F-550 is for. The F-550 goes well beyond the F-150 pickup, beyond the Super Duty lineup. The Ford F-550 is so big and brawny that this truck belongs in the commercial lineup. In this preview guide, we'll explore what makes the F-550 a powerhouse of a vehicle and how this Ford is set apart from its smaller siblings.
What's New for 2019?
The whole truck is a bit more aerodynamic as the sheet metal has been nicely worked into better flow lines, also making the F-550 better looking. There's a new twin-bar grille with the vertical side vents and the front bumper adds a tow hook. Body-color door handles, quad dual-beam halogen headlights, and fog lights are all standard in 2019. Furthermore, LED roof clearance lights are available, as are back tow hooks and splash guards.
While the frame remains high-grade steel, the body is now made of military-strength aluminum alloy. That means the truck is lighter while remaining tough. The interior look is being upgraded, and new cabin features include a 360-degree camera plus optional wireless trailer camera. Just as before, optional SYNC 3 comes on an 8-inch screen, or settle for the standard voice-activated SYNC system.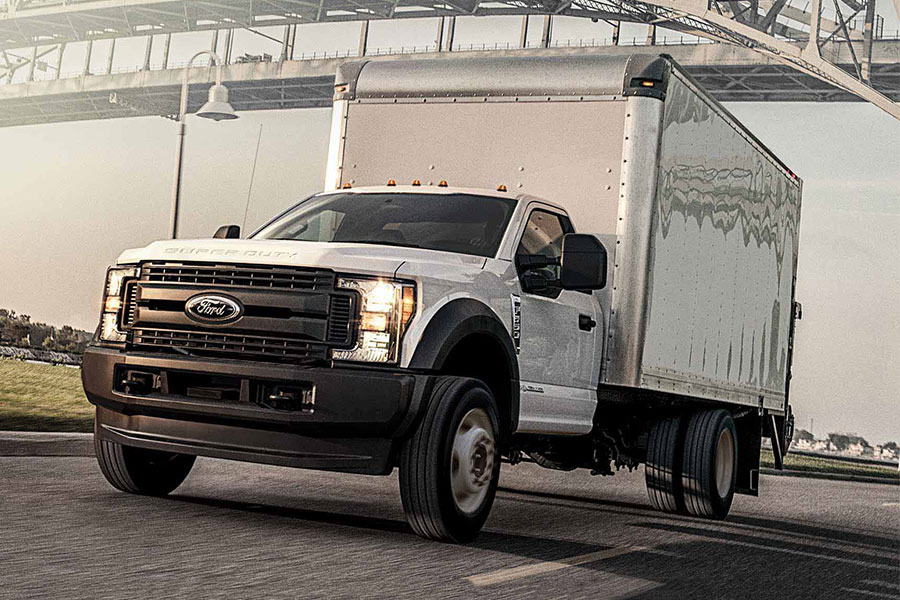 Options, Options, Options
There are dozens of possible configurations for the Ford F-550, which comes as a Chassis Cab that can be customized as needed as a dump truck, cargo van, passenger wagon, flatbed, utility vehicle, bus, motorhome, or conventional truck, and more. The cabin comes in three- or six-seater configurations with a regular, Super, or Super Crew Cab. In addition, there are plenty of trim levels to choose from, everything from the base XL workhorse starting at $39,135 to the top-tier F-550 Lariat starting at $58,170. Of the options, we recommend the Lariat or the mid-tier XLT model that starts at $42,500.
A True Workhorse
The Ford F-550 offers a 6.8-liter 3-valve SOHC EFI V10 as its base engine, delivering 288 hp and 424 lb-ft of torque. We're more enthusiastic about the other two engine options. One is a 6.7-liter Power Stroke V8 engine, good for 385 horsepower and 430 lb-ft of torque, and the other is the turbodiesel 6.7-liter Power Stroke V8 engine, generating 440 horsepower and 925 lb-ft of torque. What do these numbers mean? They're better than what the F-550's smaller siblings can offer, which means the F-550 can do more of the heavy lifting and hauling. The F-550 has a maximum payload of 12,730 pounds and a towing capacity of 40,000 pounds, when properly equipped. That ought to be enough for whatever job you need doing.
When a truck is this customizable, this brawny, and this affordable, the F-550 can really help your business do the most grueling, dirty, or heaviest jobs out there. Don't be afraid of the creature comforts inside the F-550 either. After a long job, you deserve to listen to your kind of music in the comfortable seats of your own truck.